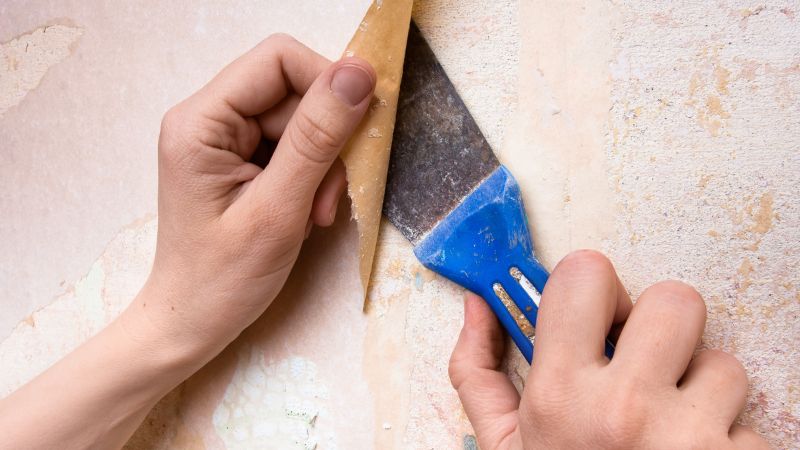 In Scottsdale, we've got your wallpaper removal covered, thanks to Painting Done By Angel's! Our team is all about giving your space a fresh start.
We take down that tired old wallpaper with care, using special techniques and tools to do the job right without damaging your walls. We're sticklers for details, so your furniture and floors stay safe throughout the process.
And when we're done, we make sure to leave your place looking clean and ready for its next makeover. So, let's transform your space together with Painting Done By Angel's, where we blend expertise and aesthetics to bring your vision to life!
Common Purposes of Wallpaper Removal
Wallpaper removal is often a necessary step during home renovation projects. When homeowners want to update the look of a room or the entire house, they may choose to remove old wallpaper to create a clean canvas for new design elements.
Interior designers frequently recommend wallpaper removal as part of their design process. Removing existing wallpaper allows them to start with a blank canvas, enabling them to select new wallpaper or paint colors, choose furnishings, and plan the overall aesthetic of the space more effectively.
Wallpaper removal can be a standalone home improvement project. Old, damaged, or outdated wallpaper can diminish the appearance of a room. Removing it and refinishing the walls can enhance the overall look and feel of a space, thereby improving the home's aesthetic and value.
Before installing new wallpaper, it's essential to remove any existing wallpaper to ensure a smooth and uniform surface. Proper preparation of the walls, which includes wallpaper removal and wall priming, is critical for successful wallpaper installation. This ensures that the new wallpaper adheres properly and looks its best.
Paint and Wallpaper Combinations
 Some interior design concepts involve using both paint and wallpaper in combination to create unique and visually appealing wall treatments. Wallpaper removal may be necessary if you want to change the wallpaper or paint color in a room. This combination allows for creative and customizable interior design options.
Why You Should Hire our wallpaper removal experts Scottsdale
When you decide to work with our wallpaper removal experts here at Painting Done By Angel's in Scottsdale, you're choosing a team that truly cares about your home. We're not just about getting rid of old wallpaper – we're all about making your space shine with style and quality. With years of experience, we've seen it all and can handle any wallpaper removal job with ease. But we don't stop there. We take the time to carefully prepare your walls, ensuring they're perfectly smooth for your next wallpaper or paint project. Plus, we use the latest techniques and tools to make sure your walls stay in top-notch condition. So, when you pick us, you're not just getting a service; you're investing in the beauty and longevity of your home's interior. Let us bring your vision to life with a touch of professionalism and a whole lot of heart.
Contact us today!